All about Makeup
I've always felt that being a model myself helps me to understand what my subject is going through and provide not only an efficient and professional approach but a personable one also.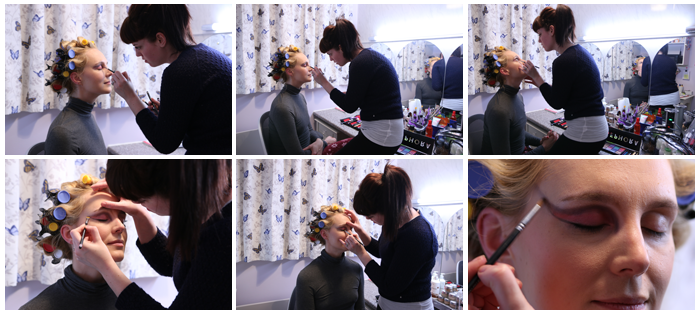 Here in my home studio with the lovely model and actress Joceline Brooke-Hamilton
My experience as a Make Up Artist has been wide and varied; Bridal shows, Film work, Theatre, Catwalks, Pamper Parties etc. and I have been lucky enough to travel to some lovely locations.
I am based near Shrewsbury so pretty central for the UK, completely self sufficient with my own transport, flexible diary and am happy to travel anywhere for the right assignment. Please see my Make Up portfolio here:

Here are some references :)
Zoe was the make up artist on a short film I did called The Returner. She did an outstanding job as she was required to make someone look diseased. She also happily stepped in as a supporting actor. She was so good that she was also the Make-Up Artist on 'The Word of Magic', shot in October 2014. I would gladly recommend her for future projects. James
I had the pleasure of working with Zoe at a studio day I arranged, Zoe in true super hero style dropped in and saved the day due to last min cancelation and I'm very happy she did, she is amazing to work with, not only is she talented she is funny, outgoing and has a slight crazy creative edge that makes her fit in perfectly with the rest of the Darklens team. I will most def be calling on Zoe over and over. And maybe at some point I might be able to get her in front of the lens. 1000% recommend all working with her. Darklens Studio
Zoe's comm's were great. Her punctuality was reassuringly professional. Alas all that was out-shone by her MUA skills. I fear my images (not uploaded at the time of writing) will not show Zoe's talent fully. Rascal333's 'man-over' by Zoe was amazing, and a true testament of a talented MUA to be subtle yet achieve the look. Will book Zoe again in a heart-beat. Kibo
This was my second time working with Zoe today, but today I was her model. Zoe was the make-up artist to a bridal shoot she got me involved in and she did my make-up beautifully. She has great knowledge of beauty and make-up and she gave me an amazing tone to my skin, covered all blemishes and sculpted my face gorgeously. I loved it ... and would happily let her do my make-up on my special day. Zoe was also on hand throughout the shoot for any touch-ups required. The shoot as a whole was a production team including hair stylist, other make-up artists, photographer and other models, and Zoe was able to use her skills in different make-up styles to compliment the work of the hair stylist and different dresses. Once again I would highly recommend Zoe, I love working with her she is so positive, friendly and always willing to help. Rhian Emanuelle
Second time worked with Zoe, she really knows her stuff, I was delighted with the results. She is fun too always ready for a laugh. Patrick H
Zoe was our MUA today at a shoot in my garage studio, was she good or was she good? I SHOULD SAY SO. Zoe is not only good as a MUA but a lovely person and a joy to work with. She loves to be given free rain to the makup for the shoot idea. Trust her judgment, I did and came away with terrific shots. She did three looks. Natural, Glamorous, and Wow thats the best way I can describe it. Recommended, in three ways, Recommended,Recommended, and Recommended. Patrick H
I really enjoyed working with Zoe today! She is a lovely, bubbly person who is easy to get along with and clearly knows her stuff. On our shoot she was very creative and really got a chance to show off what she can do! She constantly made sure I was comfortable and offered me water while I was modelling.I loved her work so much that I wore the make up all the way home! I really hope I get a chance to work wih Zoey again in the future. Highly recommended! Misuzu